Valve Actector Fireproof Box
Actector
AAMNo.
A variety of emergency equipment is on hand in petroleum / chemical plants handling hazardous material and in other facilities storing hazardous materials to cope with disaster, but this equipment itself must be protected from fires in order to be effective within the prescribed time frame.
An Actector is a device developed to cut off flow in the pipe lining : fireproof (refractory) construction covering and protecting the valve actuator (an emergency cut-off valve attached to the actuator)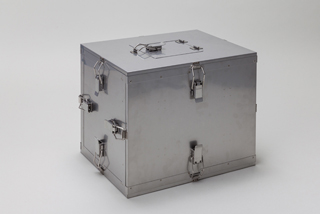 Features
Endures (fire) temperatures up to 1000~1100℃, supporting emergency cut-off valves for 15~30 minutes of operation.
SUS materials used for the exterior offer superior strength and durability.
The buckle securing system allows for panel removal without any special tool, facilitating regular inspections and easy maintenance.
Light-weight panel : 8kg or less/piece (approximately 15kg/m2) (panel thickness : 20mm).
The completely individualized design allows installation of inspection doors and retractable handle* to be tailored to customer request.

*Some shaft lengths may be excluded.
Usage
Fireproofing of valve actuator, etc.
Performance
The following performance requirements were determined by survey and study of both domestic and international specifications as well as inspections.
| | |
| --- | --- |
| Flame Temperature in case of Fires | 1000~1100℃ |
| Ambient Air Temperature of Actuator | 100℃ max. |
| Surface Temperature of Actuator | 80℃ max. (exterior temperature 20℃) |
| Actuation Time of Actuator | 15~30 minutes |
Other
Further information on handling precautions and safety issues is contained in the safety data sheet (SDS) of each respective material.
Inquiries
Online Inquiries
Direct Inquiries
A&A Material Corporation
Industrial Products Sales Department
TEL:+81-45-503-7784