Low-priced Insulation Board
AK Silica Board
AAMNo.
AK Silica Boards are a special lineup of insulation boards produced at reduced manufacturing cost.
They rely on the same key raw material as do Super Feather Silica Boards —xonotlite— and demonstrate high quality and low cost.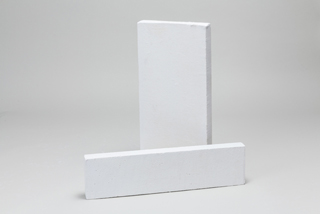 Features
Board prices are set lower than Super Feather Silica prices, based on limited product dimensions.
Performance compares favorably to JIS A 9510 No. 1-15 for Insulation Boards
Heat resistance and thermal insulation performance meet the specifications of JIS A 9510 No. 1-15 for Insulation Boards.
Water-repellent boards are also available (meeting JIS A 9510 98% water-repellent standards).
Usage
Heat retention / insulation and backup for a wide range of heating furnaces
Insulation for combustion equipment
Physical Properties
Item
Unit
Standard Values
Bulk Density
kg/m3
145
Bending Strength
N/cm2
50
Compressive Strength
N/cm2
75
Linear Shrinkage (1000℃ – 3hr)
%
0.8
Thermal Conductivity
200℃
W/(m・K)
0.06
400℃
0.08
600℃
0.12
Maximum Service Temperature*
℃
1000
*The values in the technical data given above are typical test results and are not guaranteed.
*The maximum service temperature is defined the temperature at which the shrinkage rate is 2% or less and cracking or wrapping does not occur.
For further details, please refer to JIS A 9501 Standard Practice for Thermal Insulation Works.
Dimensions
| Thickness [mm] | Width [mm] | Length [mm] |
| --- | --- | --- |
| 25、50、65、75、100 | 150、303 | 610 |
*Please inquire for further details concerning dimensions.
*R-boards are not available.
Other
Please refer to the Safety Data Sheet (SDS) for details concerning handling and/or safety.
Inquiries
Online Inquiries
Direct Inquiries
A&A Material Corporation
Industrial Products Sales Department
TEL:+81-45-503-7784