Low Thermal Conductive Calcium Silicate Insulation Material
Green Feather Silica Board
AAMNo.
Calcium silicate insulation material is lightweight with excellent heat insulation performance, but thermal conductivity elevates at high temperatures where the influence of radiant heat transfer is greater.
Green Feather Silica Boards, which control radiant heat transfer, have minimal thermal conductivity even at high-temperature levels, greatly aiding energy conservation and reductions in carbon dioxide emissions.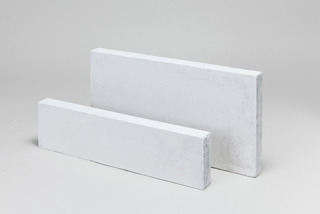 Features
Green feather silica boards have far less thermal conductivity than Super Feather Silica Boards (JIS A 9510 No. 1-15 for Insulation Boards).
Insulation is particularly outstanding at high-temperature levels, facilitating reductions in insulation thickness and radiation heat loss.
Produces superior contributions to energy conservation for a wide range of heating furnaces as well as reductions in carbon dioxide emissions
R-boards are also available for use with power generation and petrochemical plant tanks and equipment.
Usage
Insulation for a wide variety of heating furnaces and backup for furnace wall bricks
Thermal power generation plant boilers and turbines
Distillation towers and reactors in petrochemical and oil refining plants
Heating furnaces in iron manufacturing plants
Environmental plant incinerators
Physical Properties
| Item | Unit | Standard Values |
| --- | --- | --- |
| Bulk Density | kg/m3 | 175 |
| Bending Strength | N/cm2 | 45 |
| Compressive Strength | N/cm2 | 60 |
| Linear Shrinkage (1000℃ – 3hr) | % | 0.9 |
| Maximum Service Temperature* | ℃ | 1000 |
*The values in the technical data given above are typical test results and are not guaranteed.
*The maximum service temperature is defined the temperature at which the shrinkage rate is 2% or less and cracking or wrapping does not occur.
For further details, please refer to JIS A 9501 Standard Practice for Thermal Insulation Works.
Thermal Conductivity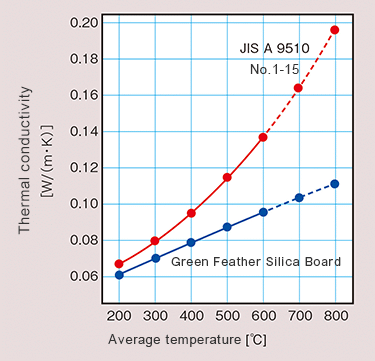 Dimensions
| Thickness [mm] | Width [mm] | Length [mm] |
| --- | --- | --- |
| 25、50、65、75、100 | 150、303 | 610 |
*Please inquire for further details concerning R-boards.
Other
Please refer to the Safety Data Sheet (SDS) for details concerning handling and/or safety.
Inquiries
Online Inquiries
Direct Inquiries
A&A Material Corporation
Industrial Products Sales Department
TEL:+81-45-503-7784