Insulation Material for Aluminum Industry
Recepal HS
AAMNo.
Recepal HS is a reinforced calcium silicate insulation board comprised of superior heat-resistant xonotlite crystal with special reinforced fiber.
This multi-use insulating material is applied in a wide range of equipment in the aluminum product manufacturing process.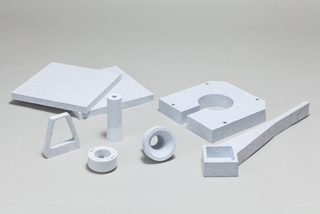 Features
Comprised of xonotlite crystal with superior heat resistance, allowing direct contact with molten aluminum alloys
Specially-reinforced fiber protects against thermal shock produced by high-temperature molten aluminum alloys, facilitating successive use and a long operating life
Minimal thermal conductivity ensures a high molten aluminum temperature retention effect, contributing to energy conservation in manufacturing equipment.
Superior machinability makes the material applicable even with complex casting components. (A&AM can cut materials into a wide variety of shapes.)
Usage
Molten aluminum transfer gutters and holding furnace lining
Headers, transition plates, floats, spouts, and other expendable supplies used for hot-top casting and float casting
Physical Properties
Item
Unit
Standard Values
Bulk Density
kg/m3
820
Bending Strength
Conditions
N/cm2
830
700℃-3hr
440
Compressive Strength (5.0% strain time)
N/cm2
980
Linear Shrinkage
700℃-3hr
%
0.4
850℃-3hr
0.6
Thermal Conductivity
200℃
W/(m・K)
0.200
400℃
0.203
600℃
0.205
*The values in the technical data given above are typical test results and are not guaranteed.
Dimensions
| Thickness [mm] | Designated Aperture [A] | Length [mm] |
| --- | --- | --- |
| 25、50 | 1000 | 1500 |
*Please inquire for further details concerning dimensions.
Other
Please refer to the Safety Data Sheet (SDS) for details concerning handling and/or safety.
Inquiries
Online Inquiries
Direct Inquiries
A&A Material Corporation
Industrial Products Sales Department
TEL:+81-45-503-7784