Insulation Material for Furnace Construction
Kilnite #1000
AAMNo.
Kilnite #1000 is the strongest and largest insulation product in the A&AM insulation board series.
The superior heat resistance originating from xonotlite, added to the cutting workability, ensures a multitude of uses.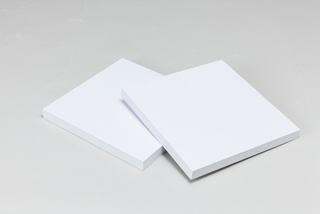 Features
This thermally stable insulation board handles heat-resistant temperatures equivalent to those specified in JIS A 9510 insulation board certification No. 1-15.
Boasts bending strength and tensile strength approximately fivefold those of the Mille Board #1000HD Furness
Kilnite #1000 maximum dimensions of 1010mm x 1510mm exceed those of the Mille Board #1000 HD Furness, and superior workability ensures that its construction efficiency is superior to that of fireproof brick.
Board can be cut into brick-sized pieces with hand tools, and used to line furnaces (A&AM plants can also cut the material into specified sizes prior to shipping.)
Usage
Furnace walls such as those in rotary kilns and annealing furnaces
Insulates all types of combustion machinery and industrial equipment
Backup for industrial furnaces such as heating furnaces and incinerators
Physical Properties
Item
Unit
Standard Values
Bulk Density
kg/m3
900
Bending Strength
N/cm2
900
Compressive Strength
N/cm2
1650
Linear Shrinkage (1000℃ – 3hr)
%
0.5
Thermal Conductivity
200℃
W/(m・K)
0.19
400℃
0.19
600℃
0.20
Maximum Service Temperature*
℃
1000
*The values in the technical data given above are typical test results and are not guaranteed.
*The maximum service temperature is defined the temperature at which the shrinkage rate is 2% or less and cracking or wrapping does not occur.
For further details, please refer to JIS A 9501 Standard Practice for Thermal Insulation Works.
Dimensions
| Thickness [mm] | Width [mm] | Length [mm] |
| --- | --- | --- |
| 13、25、40、50 | 1010 | 1510 |
*Please inquire for further details concerning dimensions.
Other
Please refer to the Safety Data Sheet (SDS) for details concerning handling and/or safety.
Inquiries
Online Inquiries
Direct Inquiries
A&A Material Corporation
Industrial Products Sales Department
TEL:+81-45-503-7784