Inorganic Joint Fillers
Insul Powder G
AAMNo.
This insulating material is kneaded following the addition of water. Once hardened, it demonstrates superior adiabaticity similar to that of calcium silicate insulating material.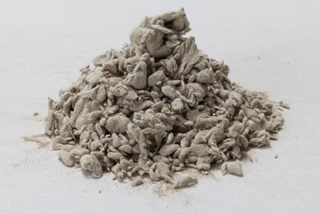 Features
As the material has high fluidity and, once hardened, low density, it is suitable as post-construction joint filler.
Usage
Joint filler for thermal-insulating materials
Physical Properties
Item
Unit
Standard Values
Appearance
―
Fine powder
Amount of Water for Kneading
(Water/Solid Component Comparison)
―
3.0
Bulk Density (After Hardened)
kg/m3
400
Standard Amount of Use
(Construction Thickness 10mm)
kg/m3
4.0
Maximum Service Temperature*
℃
650
*The values in the technical data given above are typical test results and are not guaranteed.
*The maximum service temperature is defined the temperature at which the shrinkage rate is 2% or less and cracking or wrapping does not occur.
For further details, please refer to JIS A 9501 Standard Practice for Thermal Insulation Works.
Other
Packing: paper bags (15kg/bag)
Please refer to the Safety Data Sheet (SDS) for details concerning handling and/or safety.
Inquiries
Online Inquiries
Direct Inquiries
A&A Material Corporation
Industrial Products Sales Department
TEL:+81-45-503-7784